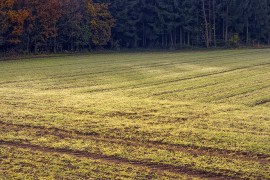 Soil treatment is essential when trying to break up hard ground, clay and other dense soils. Amending soil is an important component in achieving a successful garden, beautiful lawn and agricultural sites. Many people have tried fertilizers and other chemicals to help promote health and growth of their plants without getting the desired results. ClayMend is a soil treatment product that gives life back to your soil. Your plants require nutrients to thrive, our product does just that by freeing nutrients for better absorption. It will loosen strong bonds using microbial activity, which will allow water and air movement throughout making soil more easy to till.
Our soil treatment conditions your soil to improve work-ability  texture, pH balance and increase the efficiency of your fertilizer. Amending soil is an important process to break up large particles allowing for water and air movement giving roots the ability to move freely. Clay particles are packed together so tightly that they leave little room for water. ClayMend is engineered using state of the art technology to give you superior results in helping you break down your soil to produce fertile healthy soil using an easy treatment application process that only needs to be done three to four times a year.
Contact Humicgreen today to learn more about our soil treatment products and others
If you have questions about our products we would be happy to provide immediate assistance by calling (801) 889-2350, or our website Humicgreen.com provides highlights, additional information, application information and related articles about soil treatment products such as Soil Restoration. Just one sixteen ounce bottle can treat an area up to 5000 square feet. The results are amazing, your soil and plants will grow healthy and strong where you thought they never would grow. You will be able to appreciate lush beautiful lawn that had once been dead. We look forward to hearing from you.
Soil Treatment Related Products
You May Also Be Interested In...